This is a question many people have. 'What are the best website hosting companies?' or rather 'Which are the best website hosting companies?'. There is no shortage of website hosts out there. As of the new year, it is now 2016, the top three website hosting companies are the same top three website hosting companies of 2015. We just conducted a series of in-depth reviews on these website hosts. Here is what we came up with.
---
HostGator
HostGator is one of the biggest website hosting companies out there. They have been around since 2002. Their main headquarters is located in Houston, Texas. HostGator has grown from a small web host with only a few servers into a world renowned hosting provider with over 12k servers under their management. These guys are huge.
Hostgator has three main hosting plans; The Hatchling Plan, the Baby Plan, and the Business Plan. Those plans start at $4.86/mo, $6.96/mo, and $10.46/mo respectively. You only get to use a single domain with the hatchling, but you can have unlimited domains with the baby and business plans. You get one-click installs and unlimited bandwidth with all plans. The big draw of the business plan is the Private SSL & IP and also the Toll Free Number you get. Hostgator also does WordPress hosting, VPS hosting, cloud hosting, dedicated hosting, and more.
I personally have been a Hostgator customer for 6+ years and I can tell you that you cannot go wrong with them. Whether you are a noob or a total expert I am sure you will love Hostgator as much as I do. I started out with their baby plan, then moved up from there. Give Hostgator a shot, you won't be disappointed.
---
DreamHost
DreamHost has an extensive list of features that are sure to satisfy your website hosting needs. Their shared plans, managed WordPress plans, virtual private servers (VPS), and dedicated server plans offer a lot of flexibility for webmasters. However people that are new to servers and hosting may be a little intimidated. If you are familiar with hosting then you will likely find Dreamhost's hosting packages to your liking.
Dreamhost has shared web hosting plans that start at $9.95 per month. They offer unlimited disk space, domains, email, and bandwidth. Dreamhost gives you a free domain name. You can get the .com, .net, .org, or .info extensions. You can get additional domain names but you have to pay an additional fee.
Dreamhost offers virtual private server packages starting at $15/mo. This is pretty much for businesses that need more power or expect higher traffic volumes. Dreamhost's VPS plans offer unlimited email, disc space, and monthly data transfers. The $15 per month plan offers only 300MB of RAM. On the other hand, the $249 per month one has 16GB of RAM.
I hope you like Linux, because that's all you can get with Dreamhost. If you're looking for Windows-based dedicated servers, you won't find them here.
When you sign up you get a $100 Google AdWords voucher, which is a real nice touch.
You have a ton of choices out there when it comes to picking a website hosting company. Dreamhost is one of the biggest and best out there. You even get a free domain name when you become a customer. How cool is that?
---
HostWinds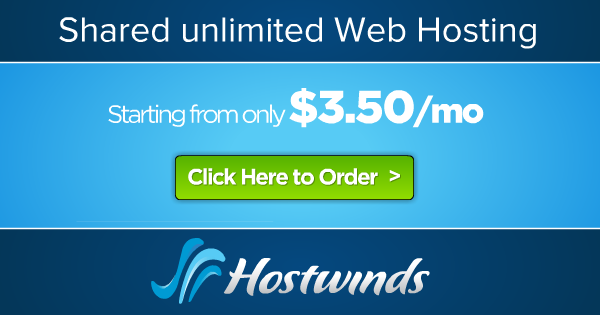 HostWinds is…
---